Easy Access Baths: A Buying Guide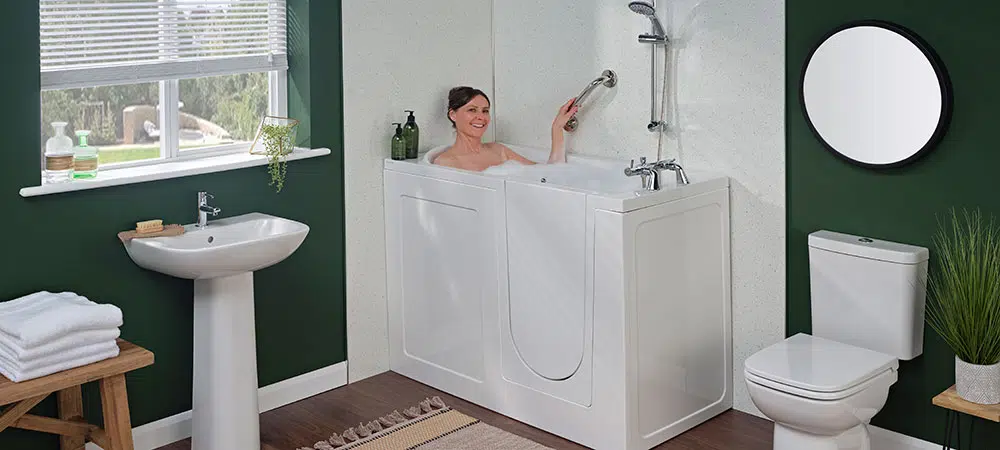 Love nothing more than a long soak in your bath but struggle to use it safely? For safer day-to-day bathing, try using easy access baths instead.
If you're finding it difficult to get in and out of your bath, you aren't alone. Not only does a normal bath require the dexterity to lift your leg over the side, but it also requires the upper body strength to get yourself up from a fully sat position.
As a result, bathing, which was once an enjoyable part of the day, can become a hazard rather than a haven.
At Assistive Bathing we appreciate the difficulties that getting older can bring to bathing. That's why we provide a range of easy access baths to help you maintain your independence at home for as long as possible.
What is an Easy Access Bath?
An easy access bath is a bath fitted with a door to the side or end. This allows the user to easily walk into the bath rather than having to step over the side of the bath.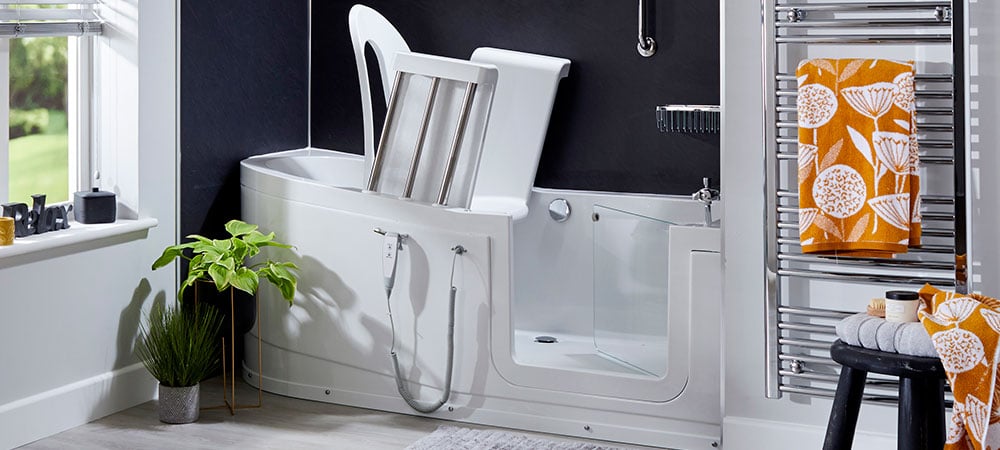 An easy access bath makes entering and exiting the bath much simpler and helps to reduce the risk of slipping over. Once in the bath, the user can fill it with water. When bathing has finished, the user can empty the water, open the door and exit the bath.
Benefits of Easy Access Baths
Our range of easy access baths have been designed with careful consideration of mobility needs. Easy access baths are the most luxurious of baths available today. This is because they provide a pleasant experience for individuals who need special care:
Firstly with a walk-in bath, individuals can bathe independently, without having the need for someone to hoist them over a standard bath side.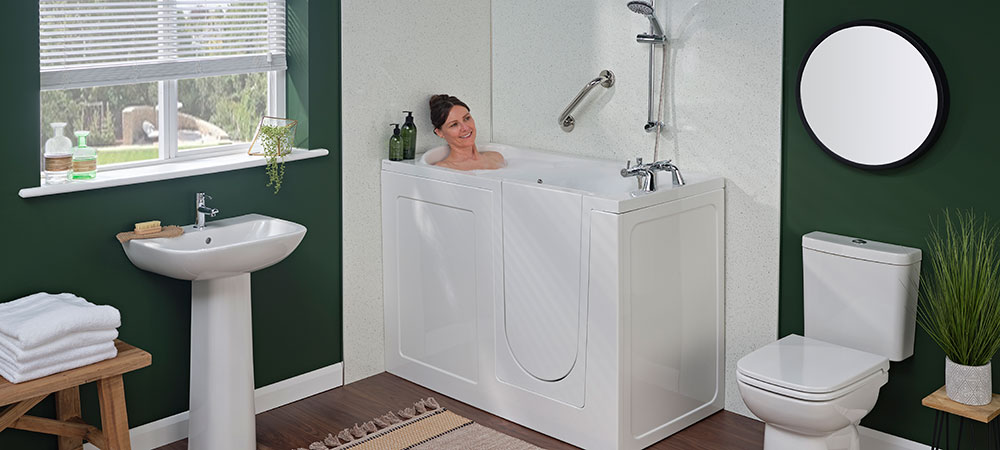 Secondly, for those who suffer from limited mobility stepping over the side of a traditional bath can often be difficult and dangerous. A walk-in bath will remove this danger and make bathing much safer.
As a result, it allows people to look forward to bathing once more.
What Types of Easy Access Baths Are Available?
At Assistive Bathing, you can choose from five types of walk-in bath models:
The Hudson full length bath looks like a normal bath with the addition of a low threshold easy access door.
An upgrade from this is the Lugano or Moritz. These are full length walk-in baths. They have a power seat to provide assistance with getting up and down in the bath.
Alternatively, The Danube and Ohio are short length walk-in bath features a fixed seat inside. This is better for users who would prefer to get in and out of the bath from a higher seated position.
Safety Features of Easy Access Baths
Assistive Bathing Easy access baths are designed with a number of key safety features as standard. You can benefit from:
A slip-resistant surface to minimise the chance of falling, even when the floor is wet
Integrated seat made to allow a comfortable and functional bathing position
Easily operated plug and chain waste to minimise bending after bathing
Temperature controlled mixer taps set to 38 degrees for safety
Antimicrobial protection
How Much Do Easy Access Baths Cost?
Here are the answers to some of our most frequently asked questions about the costs of easy access baths:
How much do you charge for the design consultation?
Our design consultation is free of charge. One of our surveyors will visit you at home to discuss your specific requirements and provide you with a comprehensive price.
How much does an easy access bath cost?
Your bathroom is unique to you so to price your new easy access bath accurately we have to
consider multiple factors such as the space available, layout of your bathroom, water pressure, drainage and electrics.
You will also be able to choose from a number of other options including heated towel rails, bathroom furniture, tiling and flooring. This is why we offer a free no obligation home survey, so we can provide you with a fixed price.
What Else Should I Consider When Buying An Easy Access Bath?
Support from consultation to completion
Ensure the installation of the bath is overseen by professional servicemen from start to finish for your complete peace of mind.
At Assistive Bathing, once you have chosen your easy access bath we will arrange a full survey and someone will be available during normal office hours to answer any questions before, during and after installation. Your satisfaction is our highest priority.
Long Warranty
Always ensure the easy access bath comes with a comprehensive warranty, including leakage from the
door.
Our installers take great pride in their work and ensure everything is easy to use for your independence. We install as quickly as possible, keeping your home clean and tidy from start to finish, and provide great aftercare support with helpful informative advice.
After Sales Support
A good after sales service can be essential for peace of mind. All of our products are made in the UK, backed by manufacturer guarantees, to give you complete peace of mind.
Find Out More About Our Easy Access Baths Today
Like to find out more? Contact us today to discuss your easy access bath requirements with an experienced surveyor & designer.
Alternatively, you can also book a free, no obligation, home survey at a time convenient to you.
Other Articles That May Interest You
A walk-in shower can benefit you in so many ways, making your life easier. Here are 7 reasons why your bathroom needs a walk-in shower...