We are proudly part of the Kingswood Corporation which has been providing innovative mobility solutions to customers for more than 26 years. We truly are your bathroom specialists and our glowing reviews are a testament to that.
Mrs Hankins existing shower featured a hazardous step to get in and out of and the small size of the shower meant there was insufficient space for her to safely manoeuvre around. Coupled with her failing eyesight, Mrs Hankins wanted to feel more secure whilst showering knowing she would be more reliant on it in the future.
The Outcome
Assistive Bathing transformed a small, hazardous area into a spacious, safe and accessible walk-in shower solution. It achieved all of Mrs Hankins requirements, focusing mainly on making the best use of the available space and achieving a safe and accessible design. Complete with a helpful shower seat and sturdy grab rails, Mrs Hankins now has a more practical space for showering which will provide increased means of independent showering for years to come.
What Mrs Hankins said about Assistive Bathing
"The service I received from beginning to end has been excellent. The product specialist was exceptional- she wasn't pushy and was very knowledgeable, helping me to really feel at ease. The fitters worked extremely hard to install my new walk in shower in only a few days. They kept me fully informed throughout the process, cleaning up everything as they went along. My new walk in shower is extremely easy to use and I'm absolutely delighted that I can feel safe using my shower once more"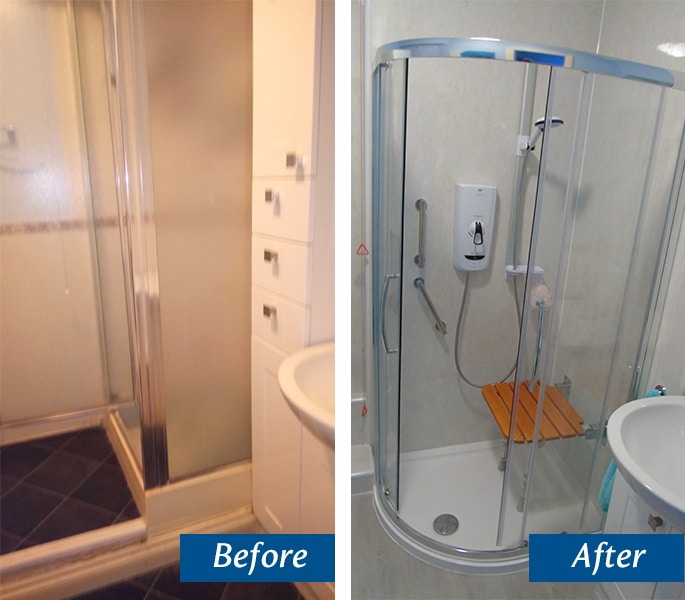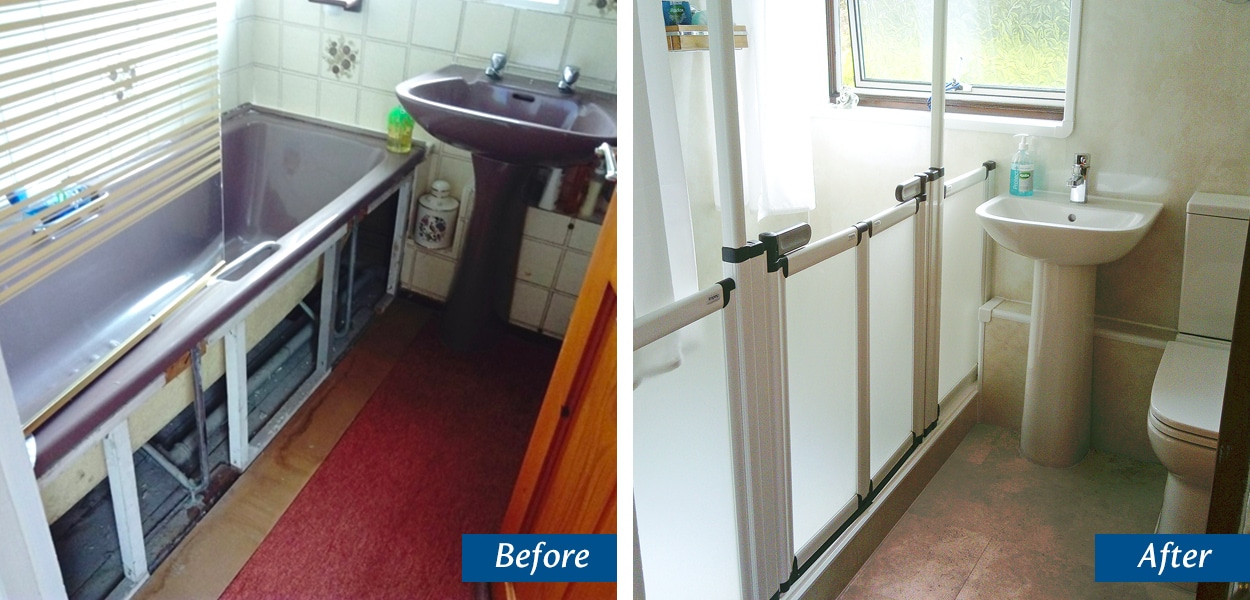 Mr White, from Birmingham, lives with his disabled father whose bathroom was no longer fit for purpose. Assistive Bathing provided a complete bathroom makeover including the Victoria walk-in shower.
The Outcome
Occupying the entire back wall, the low access walk-in shower with a comfortable waterproof seat now provides a safe place for Mr White's father to shower, whilst being practical for the carer too. The entire room was completed with slip-proof flooring, waterproof wall tiles as well as a WC and basin. Mr White's bathroom has now been fully transformed from an outdated suite no longer fit for purpose, to a totally functional future proofed disabled facility, which is bright, airy, and a joy to use, even for the able bodied.
What Mr White said about Assistive Bathing
"I found the quote to be very competitive and within my own budget range given I needed a whole bathroom transformation. The two fitters turned up early on each day to complete the deadline. The fitters were very courteous and really respected my home throughout the whole installation, completely transforming it within 3 days! Our new bathroom not only ticks all the boxes, it doesn't look like a stark clinical disabled facility. I, therefore, would have absolutely no hesitation in recommending Assistive Bathing for all domestic bathing adaptation solutions, however big or small the project!"