Quick Fixes To Create a Stylish, Accessible Bathroom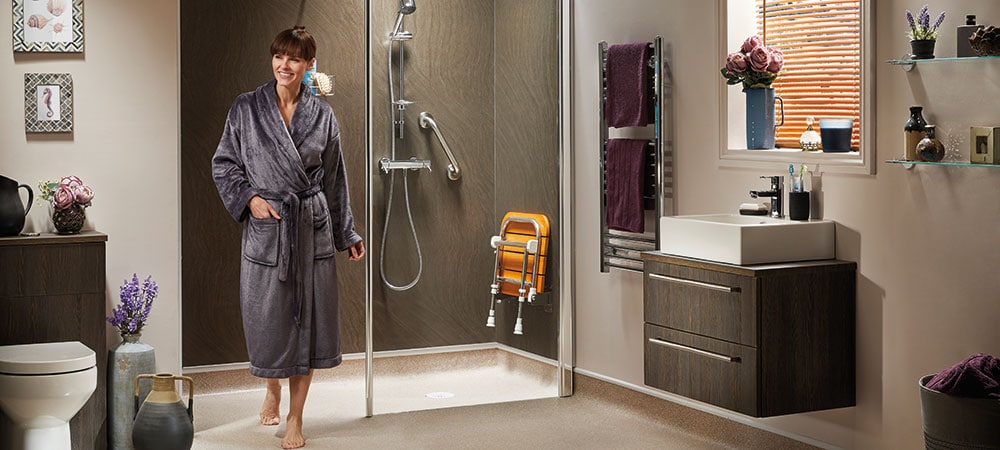 Creating an accessible bathroom shouldn't be a challenge. With an estimated 14.1 million disabled people in the UK, many of us need to take accessibility into account when updating our bathrooms.
Whether you are moving into a new home, or want to update your current bathroom, you'll find some of the easiest changes can often be the most effective.
Find five quick fixes to help adapt your existing bathroom into a more accessible and functional space. Plus, there are further options you may want to consider in the longer term too.
1. Update to Single Handle Mixer Taps
Turning taps can be problematic for those who have a disability affecting their hands, such as arthritis.
Bath and basin mixer taps with a single lever offer the easiest and most stylish of tap options.
Better still, these taps can be temperature controlled for your safety, so you don't need to worry about burning yourself by mistake.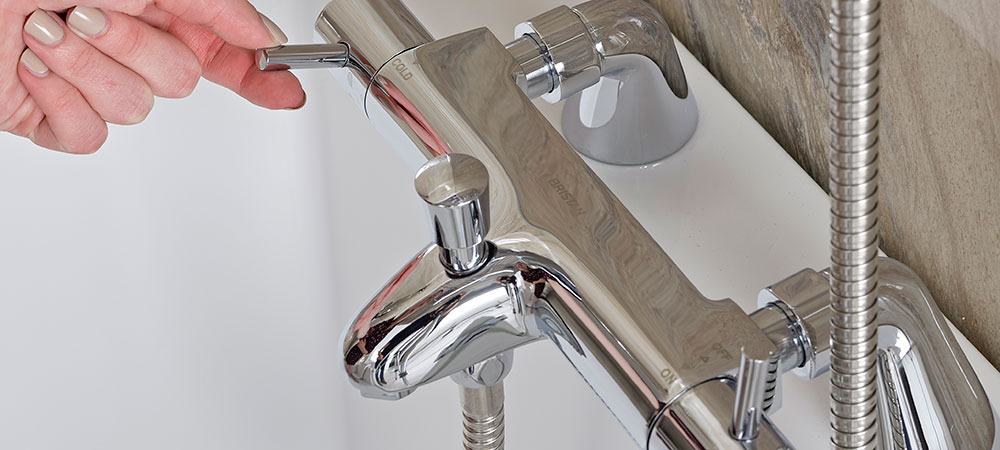 2. Update Shelving and Accessories
In most bathrooms, shelving is usually featured out of the way of main fixtures.
When adapting your bathroom for the disabled, it is important to lower shelving so your everyday accessories and essentials are within easy reach.
Backed by a lifetime guarantee, our collection of beautifully designed hand-built furniture offers a range of styles, finishes, and design combinations to suit your lifestyle choice and budget.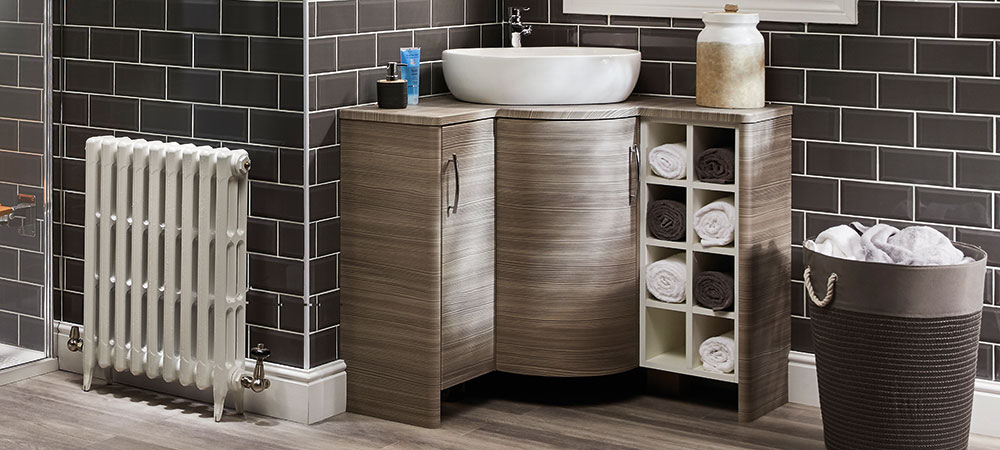 3. Install Grab Rails
When designing a disability bathroom, grab rails (or grab bars) can be fitted where necessary for an easier transfer.
Common places where people need additional support and reassurance are where they sit and stand up, such as by the toilet or getting in and out of the bath or shower.
Assistive Bathing has a range of soap baskets, toilet roll holders, and towel rails with grab rails which can be subtly integrated into your bathroom.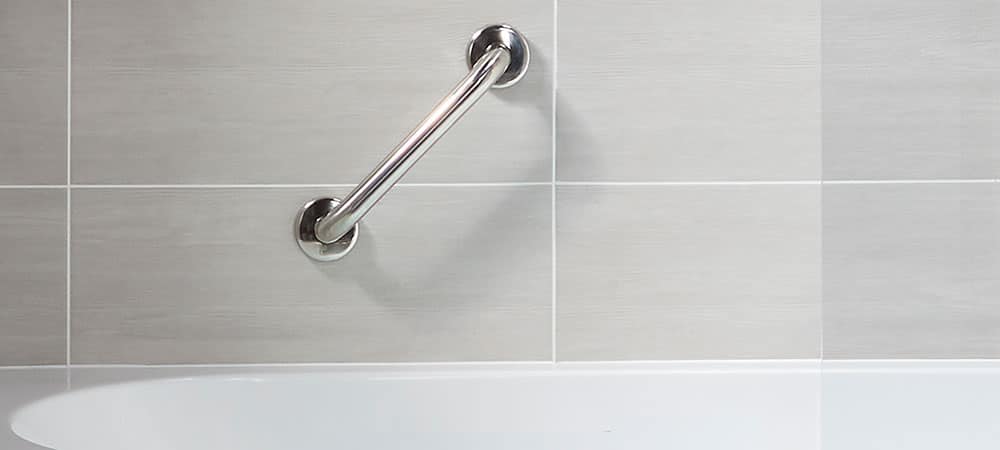 4. Consider Additional Shower and Bathing Aids
To help with bathing, a bath lift can transfer the user in and out of the bath at the simple touch of a button.
Alternatively, add a shower seat into the shower. Opt for a fold-down design to maximise space and usability, especially if other family members are using the bathroom.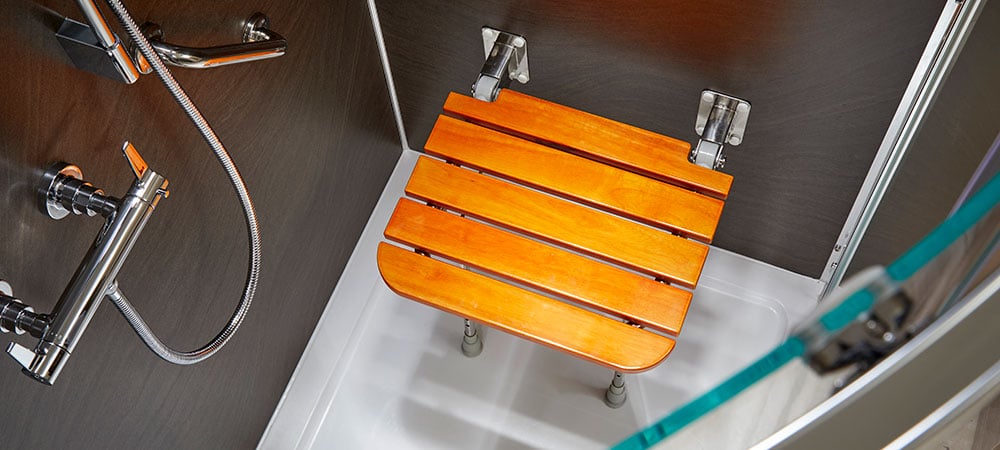 5. Raise Toilet Seat
Disabilities can make it difficult to sit down or raise from your toilet seat.
By adding a height-adjustable toilet seat raiser you can normally raise the height of your toilet by up to 15cm.
This will greatly help you to sit on and stand up from the toilet as you won't have to lower down so much.
Sizes, prices and safety mechanisms vary considerably so make sure you have assessed all options before making a decision.
More Quick Fixes
Clear any loose mats or clutter from the floor which could act as a tripping hazard.
Update light switches to be at an easier reaching height, or opt for a pull cord instead. Adding motion sensor lighting in the bathroom can also be helpful when using the bathroom at night.
Re-hinge the bathroom door to swing outward, to create more space.
Further Accessible Bathroom Ideas
Anti-slip flooring
Bathroom floors inevitably get wet, which is why bathroom flooring with a good anti-slip rating should be considered.
We offer an extensive range of slip-resistant anti-microbial finishes in a variety of colours, all expertly fitted for you.
Our flooring system has been designed with safety in mind and is perfect for bathrooms, creating a warm comfortable surface for bare feet. It's both hard, stable, and most importantly 100% waterproof with a 15-year guarantee.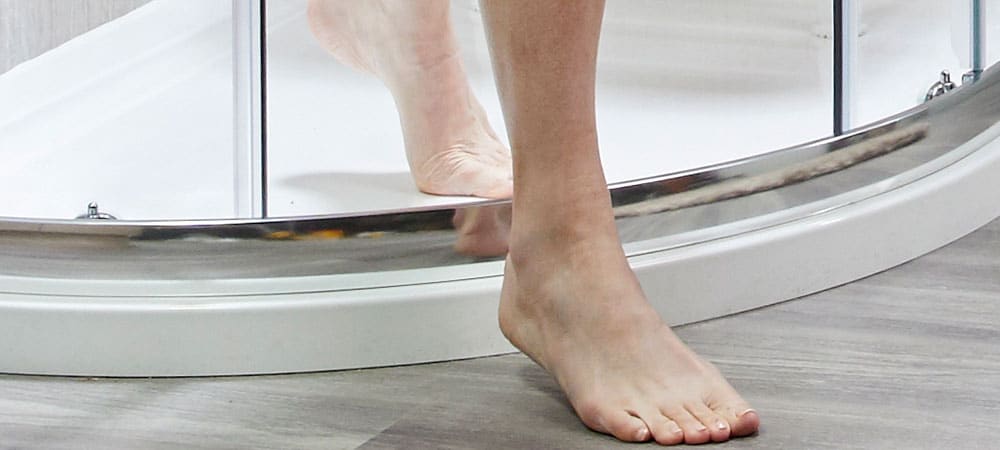 Easy Cleaning
Cleaning the bathroom is an important part of the weekly chore list. Disabled bathrooms should be easy to clean, with no awkward spaces to get to.
Walk-in Bath & Walk-in Shower Enclosures
If you are looking for a more long-term solution to create the ultimate accessible disability bathroom, consider adding a Walk-in bath or Walk-in shower enclosure.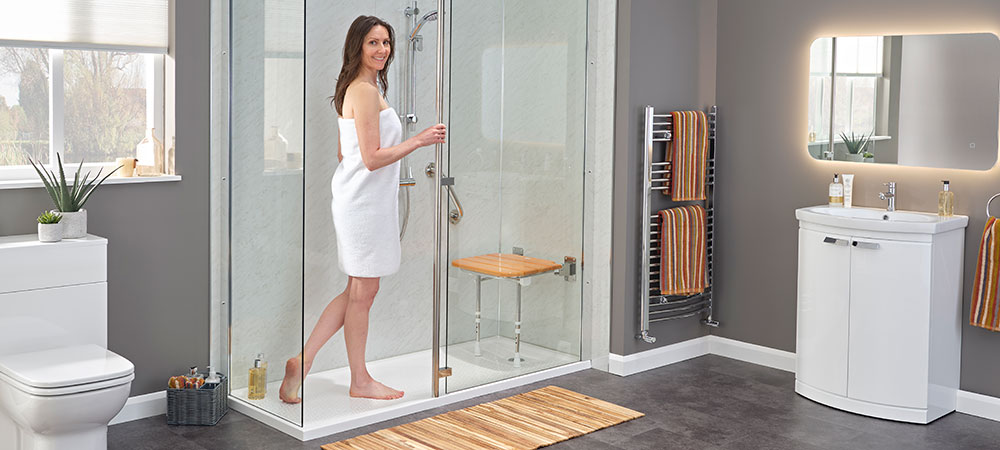 The Assistive Bathing range of walk-in baths and showers include a number of key safety features as standard:
Easy access low door threshold
Secure bath grab handle rail
Slip-resistant surface
Lifetime leak-free seal
Comprehensive manufacturer guarantees
Wet Room
Alternatively, a wet room provides you with a seamless transition from bathroom to shower with the easiest of access.
The many features included in our Wet Room walk-in shower combine to create a practical, easy-to-use, superb-looking bathroom.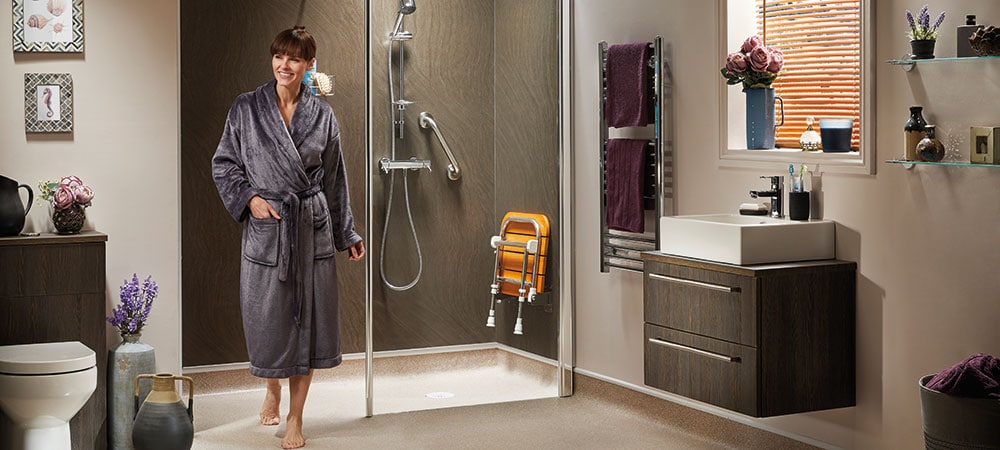 By converting the whole floor area of your bathroom into one surface you make access easy for the less able and wheelchair users.
Our skilled installers will re-engineer your current floor construction into a suitable, watertight environment.
Safety features include:
Full-length anti-splash screen (no leaks guaranteed)
Tempered safety glass and comfortable fold flat adjustable seat (with or without handles)
Slip-resistant Polyfloor
Find out more about creating a stylish, accessible disability bathroom
Assistive Bathing believes in providing straightforward, no-nonsense, and practical advice. Our reputation depends on it.
Our friendly, trained staff have a wealth of experience advising on the best solution for you. We will never make you feel pressured into a consultation or to make a decision against your will.
Check out our range of accessible disabled bathrooms and create the perfect bathroom for your needs today.
Other Articles That May Interest You
Wet rooms and walk-in showers: although both are very similar, they both have different features...