What are Walk-in Baths & How Do Walk-in Baths Work?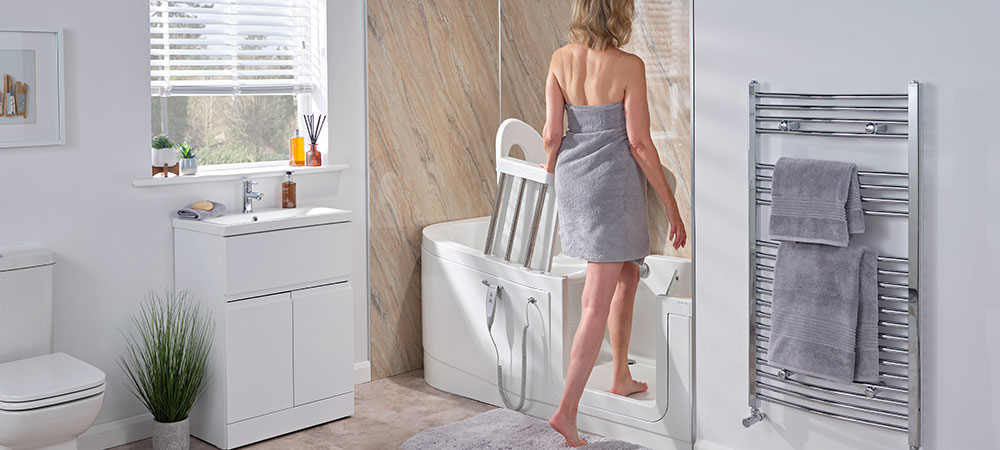 What Are Walk-in Baths?
If you are someone that struggles to get in and out of their bath, but still want to enjoy a relaxing soak, walk-in baths are the most practical and luxurious of baths available today.
Walk-in baths are becoming increasingly popular due to their convenience and ease of use, and quite right too! Bathing should be relaxing from start to finish, soaking without any stress or strain.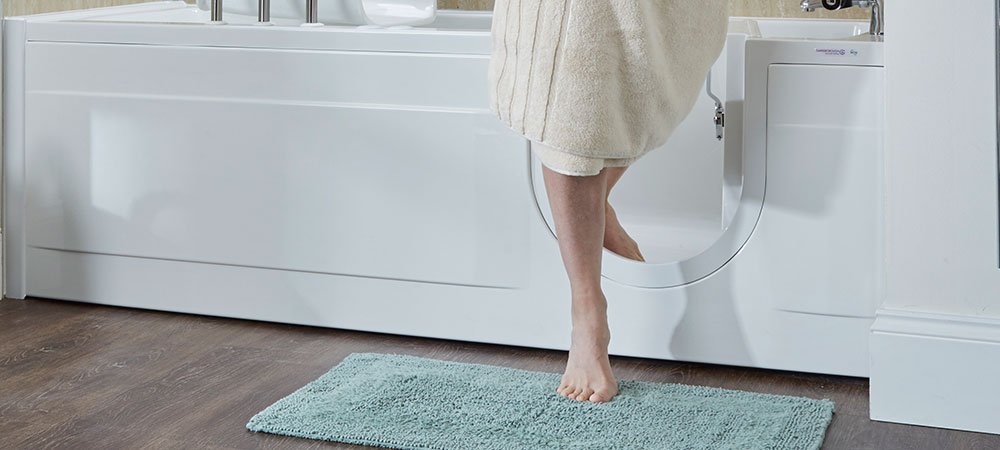 Walk-in baths are like traditional baths but with the added benefit of a built-in, watertight door. This allows the user to step over a low threshold safely in order to easily enjoy a bath.
This provides a relaxing experience for those with limited mobility enabling them to live healthy and independent lives.
What Are The Benefits of Walk-in-Baths?
Walk-in baths provide a wide range of benefits to people with mobility problems:
Improved independence – A walk-in-bath allows the user to get in and out of the bath safely, without relying on anybody else for help.
Reduced stress – Trying to get in and out of a normal bath when you have mobility issues can be a great cause of concern. Being able to get in and out of your bath safely brings much needed relief.
Lower chance of falls – The NHS reports that 1 in 3 adults over 65 who live at home will have at least one fall a year. By adapting your bathroom to meet the users needs, you can greatly reduce your chances of falling when getting in and out of the bath.
Soothe aching muscles and joints– Relaxing in a warm bath is wonderful for easing the aches and pains that build up through the day. It is especially helpful for those who suffer from joint pain such as back ache and arthritis.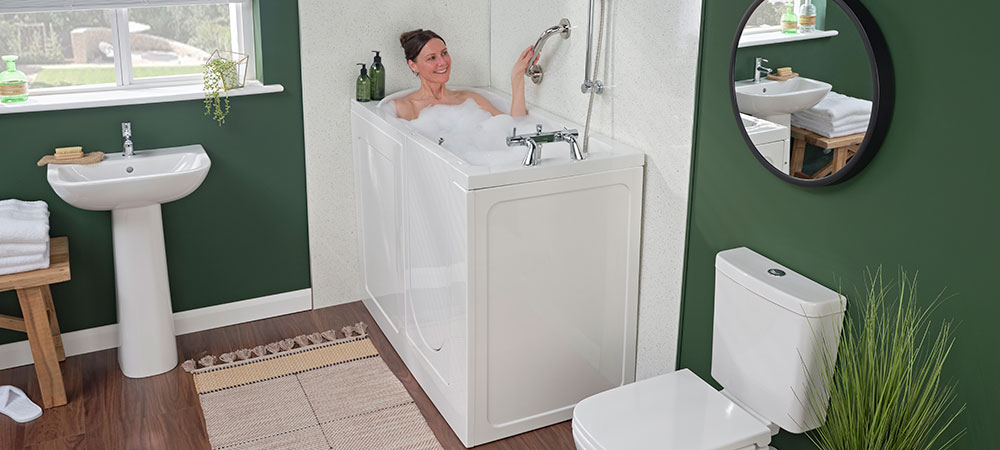 How Do Walk-in Baths Work?
There are 4 simple steps to take when using a Walk-in bath:
1. Access the bath- Open the walk-in bath door and carefully enter via the low threshold step onto slip-resistant base
2. Close door and fill– Lock the watertight door behind you, sit down comfortably while the bath fills.
3. Enjoy– Sit back, relax and finally enjoy a warm bath in comfort.
4. Drain- Let the water drain via the quick drain system then safely exit.
What Are The Different Types of Walk-in Baths?
With so many different types of walk-in baths to choose from, the decision can feel quite daunting.
Typically, there are 3 main types of walk-in baths:
1. Full-length walk-in baths
Full-length walk-in baths look like normal baths with the addition of a low threshold easy access door.
As they are fit exactly where your old bath was, they are a popular choice for the majority of bathrooms.
For more information view The Lugano full-length walk-in bath.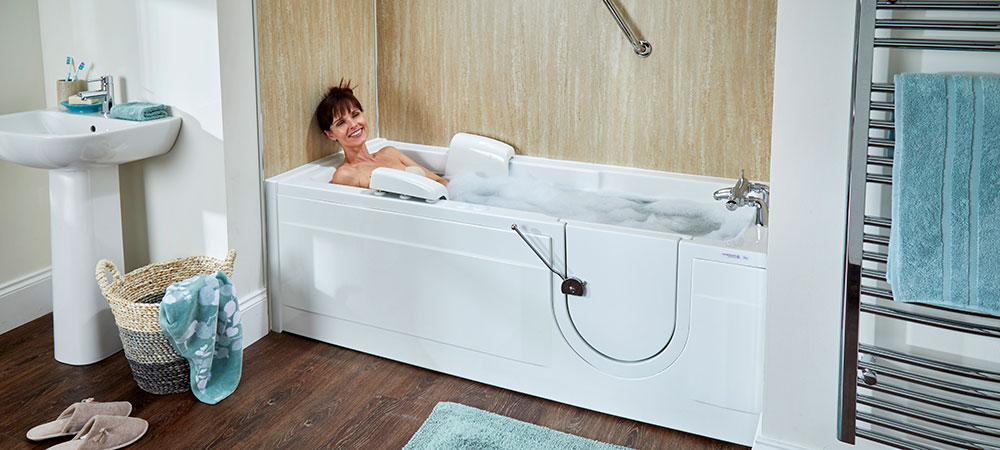 2. Short length walk-in baths
If space is limited in your bathroom, a short length bath would be the best option for you.
Due to its compact size, The Danube walk-in bath can fit comfortably in smaller bathrooms.
Add to this the safety and sheer comfort of the non-slip floor and integrated seat, you'll be more than pleased you chose a short length bath every time you have one.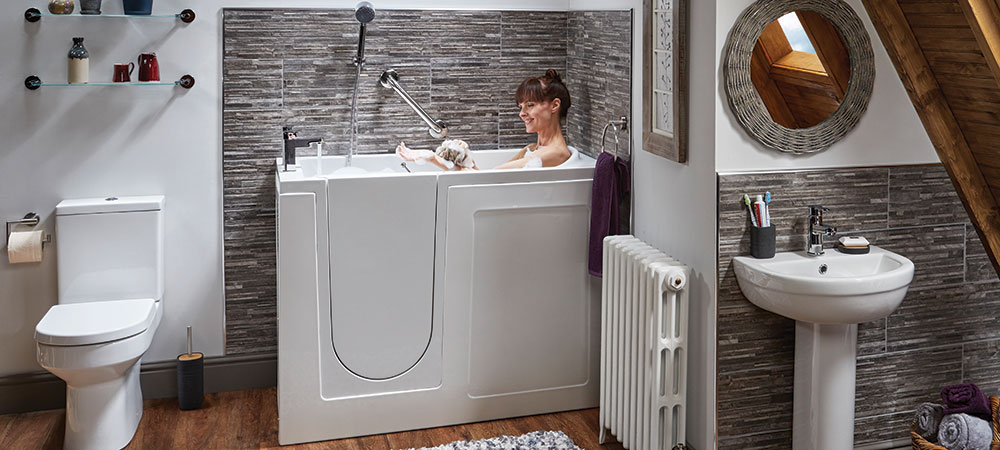 3. P-shaped walk-in baths
P-Shaped walk-in-baths, such as The Hudson, are perfect if you are looking for ample space to bathe as well as the added convenience of a shower.
With the added integrated powered seat, this type of bath is also ideal for those who find lowering themselves into a conventional tub difficult.
Due to their versatility, P-Shaped baths are perfect for where different bathing needs are required by other family members.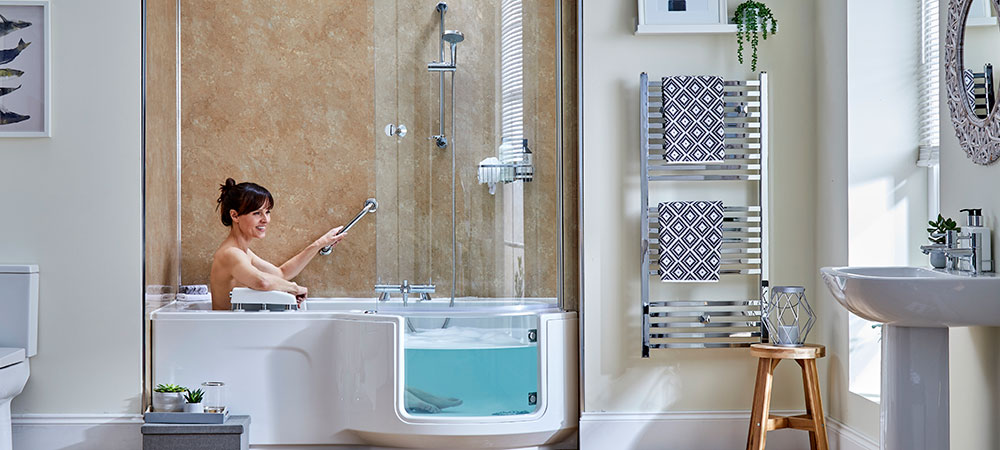 What Walk-In Bath Features Should I Look For?
When searching for a walk-in bath there are a number of key features to look for to reduce the risk of accidents during bathing.
All our walk-in baths are carefully designed with many unique safety features to ensure a safe and luxurious environment:
Walk In-Bath Door Features
Easy access inward opening door. This not only ensures safe entry to the bathing area but saves on spaces too.
It is also important to make sure that there is a low threshold height to reduce your risk of becoming unstable.
Finally, look for a watertight door seal that activates upon locking the door to prevent any unwanted leaks.
Additional Walk-in Bath Safety Features
You should also look for walk-in-baths that offer additional peace of mind such as:
Slip resistant base– Ensures a firm footing and works in both wet and dry conditions to reduce chances of falling
Secure grab handle – Grab handles custom fitted to suit your needs position where required to ensure safety and peace of mind getting in and out of the bathing area
Pop up bath plug– A hand or foot operated pop up bath plug allows you to empty or fill your bath in the most convenient way for you
Optional Shower Features
Integrated shower facility– If you would like the option of having a bath or shower, consider adding an integrated shower facility where water is controlled from bath taps.
Adjustable shower spray pattern– Adjustable shower head gives various options (full body, power or massage spray options) when showering.
Safety glass– Ensure that safety glass is fitted to shower screen.
Extended shower hose– Having a shower hose that is at least two metres long makes for greater comfort and ease of use when showering.
Hinged shower screen – Look for a hinged shower screen for access and ease of cleaning.
What is the Best Walk-in bath for me?
The best walk-in bath for you will depend on a number of factors.
Whichever you prefer, the best way for you to decide is to discuss your particular needs with one of our nationwide advisors, from the comfort of your home.
He or she will be able to talk you through the range of products available to enable you to choose the one which would you best. Our advisor can show you how the products can be installed into your bathroom, how easy they are to operate and can answer any questions you have along the way.
The installation will be simple, straightforward and stress free- we take away your old bath leaving you with a wonderful new walk-in bath you can enjoy straight away. All you have to do is enjoy it.
Other Articles That May Interest You
Wet rooms and walk-in showers: although both are very similar, they both have different features...