Choosing The Best Assisted Bathing Option For You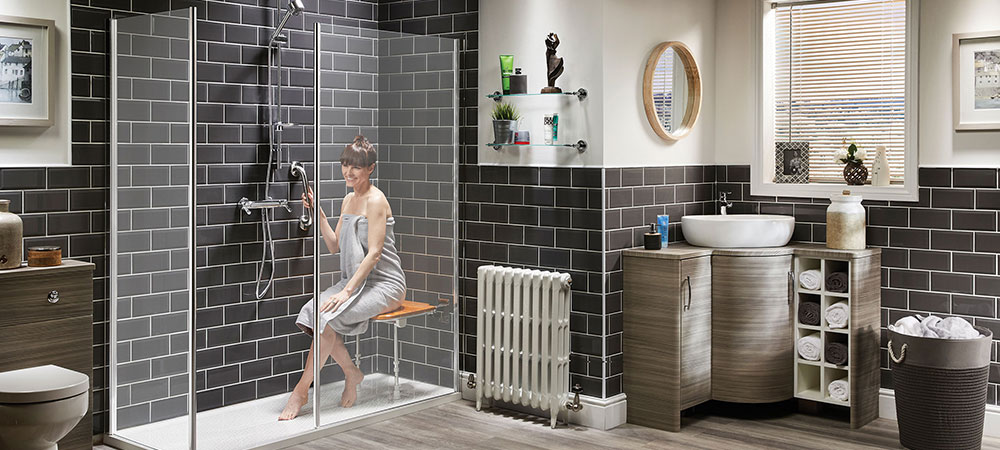 Choosing the perfect assisted bathing solution for you can be a daunting task, especially when there are so many options around. With around 13.9million disabled people living in the UK, we understand the importance of making bathrooms safe and accessible.
Do you wish you could enjoy relaxing, independent bathing experiences once more? All of our bathing solutions will enable you to regain and maintain independence in the bathroom. Here are how all of our assisted bathing products could help you.
Walk-In Baths
Hot baths are offer temporary pain relief on achy joints and muscles and can be the perfect way to relax. If you prefer a soak in the bath over a hot shower, or if you are unable to stand for long periods, then a walk-in bath could be the perfect bathing solution for you.
We have 4 walk-in bath options.
The Danube walk-in bath offers a comfortable, integrated seat making it easier for you to enter the bath. This means you can get in at a higher level as opposed to having to crouch down to floor level.
The Lugano walk-in bath has a power seat feature to help you to enter and exit the bath easily. Alongside this, the Lugano offers an easy locking mechanism that is easy to use, with a lifetime no leak guarantee.
The Moritz walk-in bath features a comfortable reclining seat to enable safe entry and exit to your bath. As well as this, it has a simple to use locking mechanism to guarantee a lifetime of no leaks.
The Hudson walk-in bath differs from the rest due to its unique 'P' shape, which provides you and your family with more room when bathing and showering.
All of our walk-in baths are equipped with extra safety features. These help to decrease the risk of trips and falls when you're bathing. These features include low level, easy access and slip-resistant surfaces. On top of this, they all come with in-built shower heads too, meaning you and your household can still enjoy a warm shower as and when you please.
Walk-In Showers
If declining mobility is a concern for you, a walk-in shower or a wet room may be a more beneficial bathing solution for you. We offer a versatile range of walk-in shower designs to choose from, each of which with many added features that can benefit you.
Walk-in showers are perfect for those with restricted mobility. Packed out with safety features, they help to make showering easier and safer, reducing the risk of slips and falls.
We have 4 walk-in shower options.
The Caspian walk-in shower is designed to conveniently fit in your old bath space. It allows for a generously sized showering space, complete with a fold flat adjustable shower seat. The tray is flat, low level for easy entry and slip resistant.
The Superior Walk-in shower features a fully enclosed glass, sliding screen. It's available in a variety of sizes and also features a fold flat adjustable shower seat.
The Michigan walk-in shower is a traditionally styled shower enclosure but engineered to provide easy, safe access. It is designed to fit perfectly in the corner of a bathroom.
The Victoria is specifically designed with carer requirements in mind. It allows the carer to bathe the user without getting wet. It features wide opening folding doors to make walking in and out so easy, and provides privacy for discreet showering.
Grab rails can be installed to all of our walk-in showers, for extra safety and support when showering. These will enable you to be more independent in the bathroom again – the perfect assisted bathing solution.
Various sizes are available for all of our walk-in showers, so you can enjoy their benefits even if you have a restricted amount of room in your bathroom!
Other extras that can benefit you include secure shower hose rings, adjustable shower heads and large and easy to use paddle levers.
Wet Rooms
Wet rooms are the perfect showering solution for wheelchair and mobility aid users. This is because they have a flat, one level surface throughout the whole bathroom. Wet rooms offer ultimate bathroom independence as you don't need to worry about getting up or down any steps or uneven surfaces.
With safety features such as comfortable, adjustable shower seats, slip-resistant poly-flooring and more, our wet rooms provide you with the ultimate, seamless transition from a bathroom to an easy-to-access shower. You also have the option to add as many secure grab rails as you please. This will offer you maximum safety when getting around the bathroom, and the ultimate assisted bathing experience.
Why Choose Assistive Bathing?
-Made in the UK: all of our showers and baths are made in the UK.
-Professional installations: our installers take pride in offering highly professional service, and will install your bath or shower with a no-leak guarantee.
-Fast and efficient transformation: we promise to keep your home clean and tidy during the installation process. We also aim to offer as little disruption as possible.
-FREE removal of old bathroom fittings.
-A little extra: after the fitting, we will always take time to show you how to get the most out of your brand new bathroom. This will help you to maintain your independence.
-Second to none customer service: it is clear from our TrustPilot score that we offer impeccable customer service 100% of the time.
Request Your FREE Brochure Today
Want to find out more about all of our bathing solutions? Click here to request your FREE brochure today, or simply give our friendly team a call on 0800 085 5585 today!
Other Articles That May Interest You
Bathrooms can be dangerous for the elderly. Here's how a walk-in bath can make them safer for the elderly...