7 Reasons Why Your Bathroom Needs a Walk-in Shower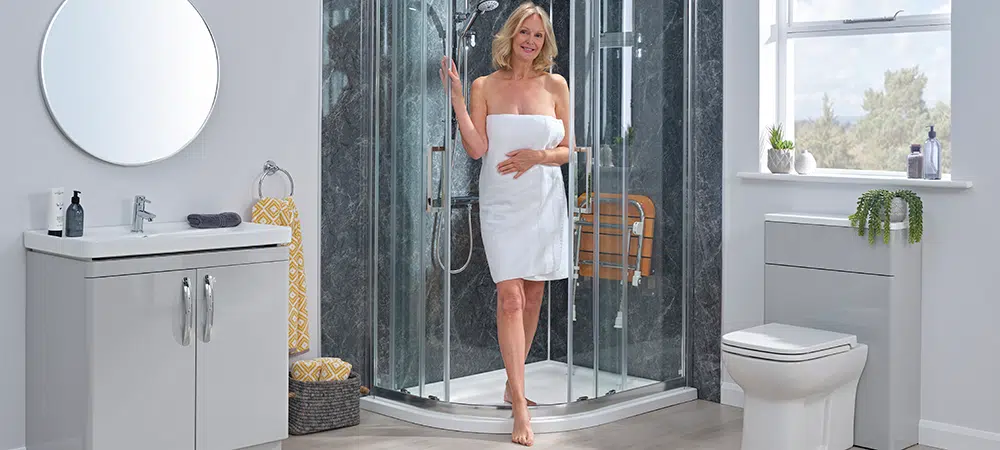 If you lack mobility or care for a friend or relative with limited mobility, the shower can pose a challenge on a daily basis. Perhaps you are struggling to get in or out of your existing shower. Or maybe you need a more accessible space for your changing needs. Either way, walk-in showers provide the perfect solution.
Take a look at our top 7 reasons why your bathroom needs a walk-in shower.
1. Shower Safely Once More
Let's begin with one of the most important reasons why your bathroom should feature a walk-in shower- your safety.
A walk-in shower is designed to provide the ultimate safety when showering, with a number of helpful safety features as standard.
Key Safety features of Assistive Bathing Walk-in Showers
-Low level Safe Access
No more awkwardly stepping over dangerous steps. Walk-in showers have low-level easy access so you can finally step in and out of the shower with ease.
-Slip Resistant Tray
For your complete peace of mind when showering, Assistive Bathing walk-in showers feature a slip resistant tray which works in both wet and dry conditions.
-Secure Shower Grab Handle Rail
Grab handle rails are perfect for providing stability and that extra bit of support as you manoeuvre around your walk-in shower.
-Convenient Shower Seat
For those with mobility issues, standing for a shower may be a bit of a struggle. With an inbuilt shower seat, you can conveniently take the weight off your feet to enjoy a shower at your own pace. It's also perfect to sit on while washing your hair and feet.
-Height Adjustable Shower Head
Adjust the position of the showerhead to suit you, no more awkward stretching. With 5 spray settings for comfortable showering.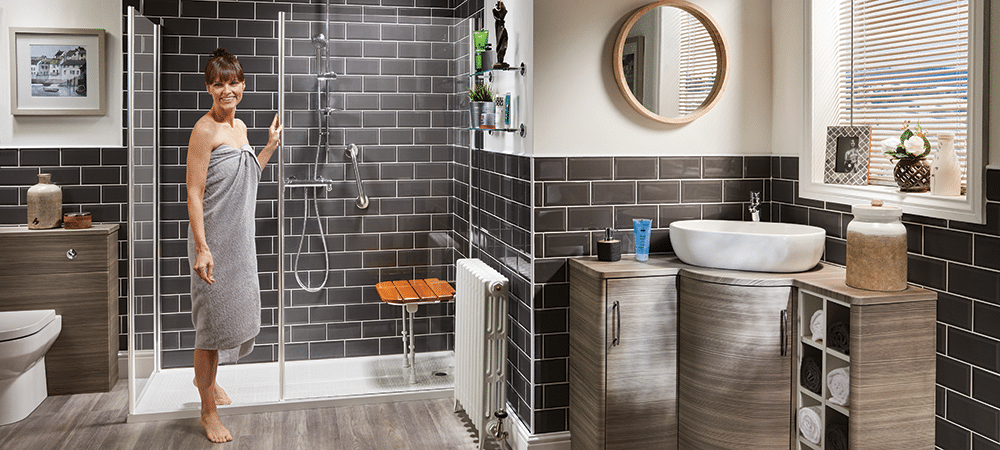 2. Increased Independence
Independence is something we all value and, if you have limited mobility, adapting your shower to improve your accessibility can help to make day to day life easier and safer.
As discussed above, walk-in showers provide a number of ways to increase your safety when showering. All of these factors combined mean that you can enjoy increased independence when getting in and out of the shower, without having to rely on anybody else.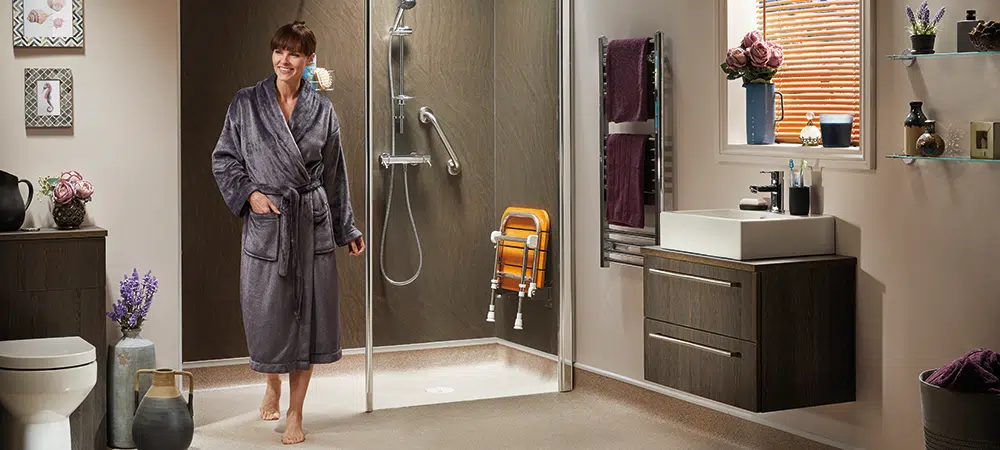 A wet room is an excellent option to increase independence. With a wet room, the entire room is waterproofed, with a slightly sloped floor to allow water to drain. This creates a walk-in shower area that has no steps to worry about. This is perfect for wheelchair users or those who require mobility aids when showering.
3. Create a Luxury Space You'll Love To Relax In
Just imagine designing a space that is not only luxurious but the ultimate answer to your showering difficulties…We're thinking stylish floor to ceiling glass doors, opulent marble wall surfaces and glamorous bathroom accessories to match. Just because you need some extra support around your bathroom, doesn't mean you should compromise on its style!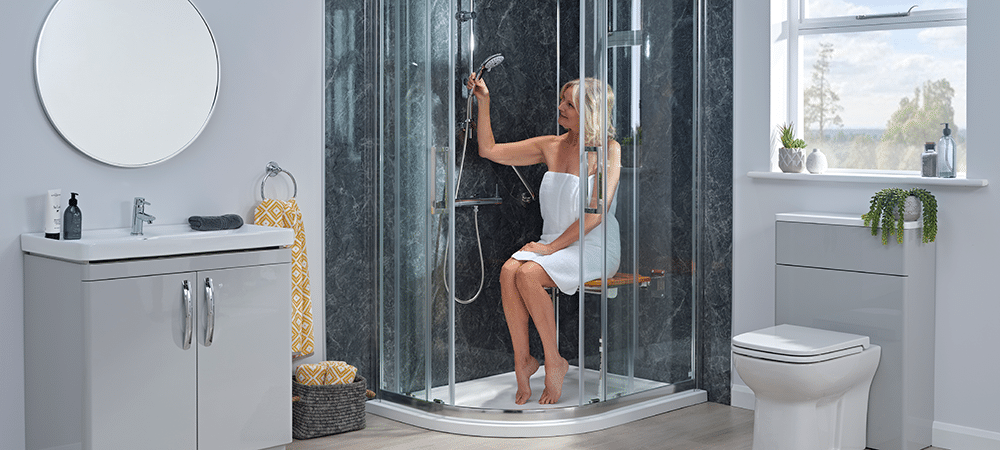 Whether you need more space when showering or you want to create a safer environment, a walk-in shower is a perfect design. At Assistive Bathing you can choose from a variety of stylish walk-in showers to suit your needs and your budget. Regardless of the size of your bathroom, we can customise the design to suit your bathroom, style and needs. No compromise is needed.
4. Future Proof Your Bathroom for Years To Come
All Assistive Bathing walk-in showers are built to last. With toughened safety glass and a robust framework, your walk-in shower provides maximum durability to stand the test of time.
So, should your mobility worsen, you know that your walk-in shower will be suitable for your changing needs for years to come.
Plus, all products supplied by Assistive Bathing are backed by comprehensive manufacturer guarantees, so your peace of mind is assured. We focus on supplying reliable high quality products from UK manufacturers to provide a better quality of life.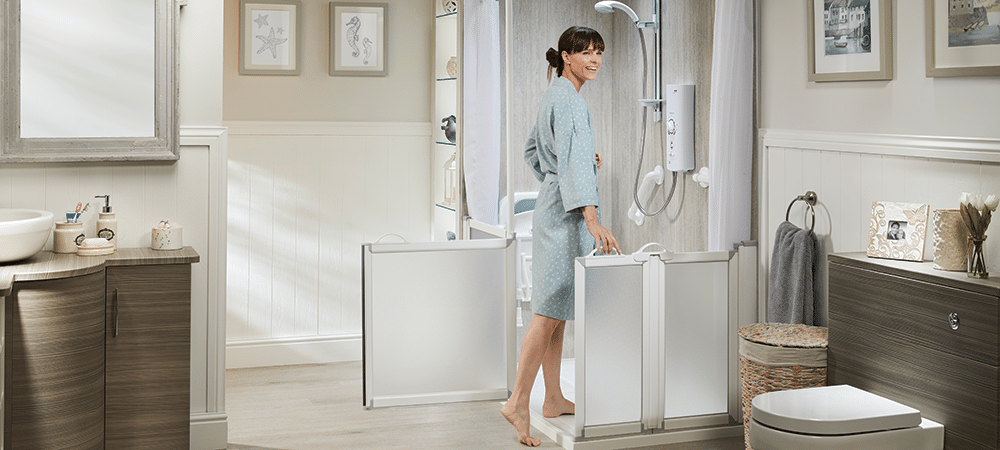 5. Peace of Mind For You & Loved Ones
A shower should be something that you look forward to, not fear.
With slipping in the bathroom being a common cause of injury in the home, it's important to take all the precautions you can to ensure your safety.
Our walk-in showers come with a number of safety features as standard, giving you and your loved one's extra peace of mind when you shower.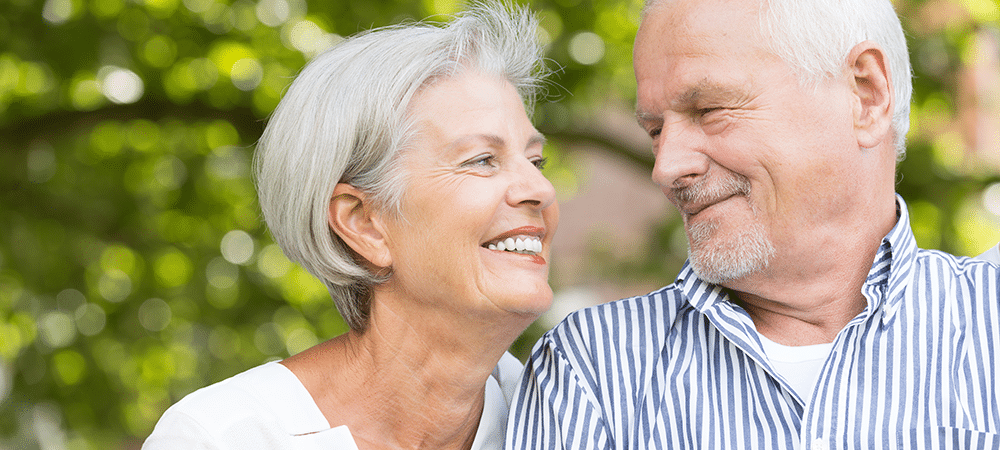 6. Walk in Showers Are Easy to Clean
A recent study has found that we spend up to 5 hours per week cleaning.
When you have mobility problems cleaning a shower can be difficult, so having a walk-in shower that is easy to keep clean is an important, but sometimes overlooked advantage.
All our walk-in showers come with Anti-microbial flooring, which helps to prevent the growth of bacteria. Plus, the trays are easy to access meaning all areas are more accessible for cleaning.
7. No Hassle Installation
When you make the decision to upgrade your shower, you want to know that it will be done as quickly as possible, to the highest possible standards.
Regardless of your needs, Assistive Bathing can help to advise the best walk-in shower for you. Once you have made your decision, we will arrange a full survey and a member of our team will be available to help with any questions you have before, during and after your installation.
Our team of professional installers take great pride in their work to ensure everything is easy to use for your complete safety and independence. We install as quickly as possible, keeping your home clean from start to finish. We also provide great aftercare support so are with you every step of the way.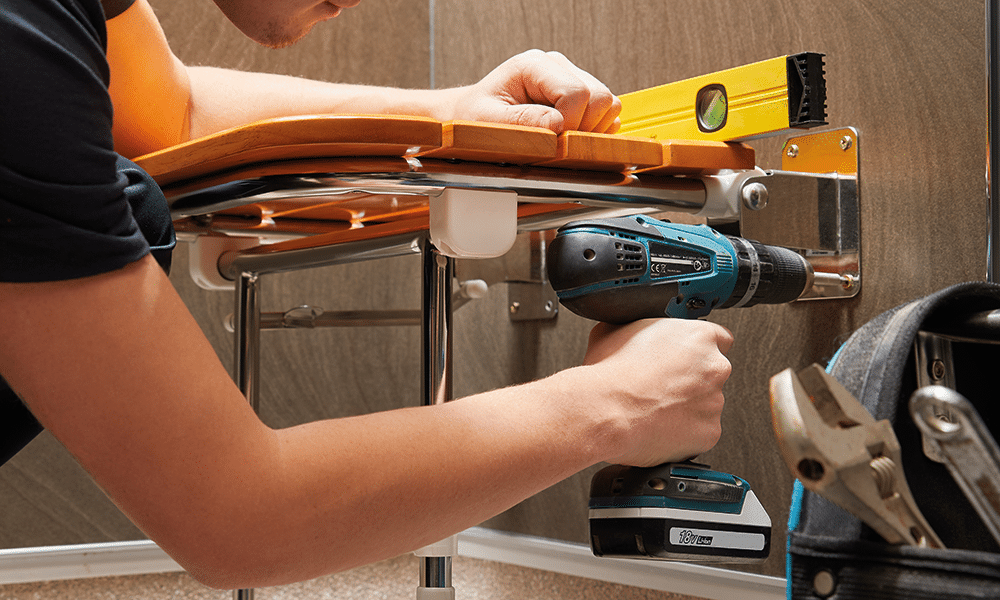 Our Range of Walk In Showers
We offer a wide range of elegant and contemporary walk-in showers and have styles that will either complement your existing bathroom or give a complete makeover:
Other Articles That May Interest You
Wet rooms and walk-in showers: although both are very similar, they both have different features...