What Is An Accessible Bathroom?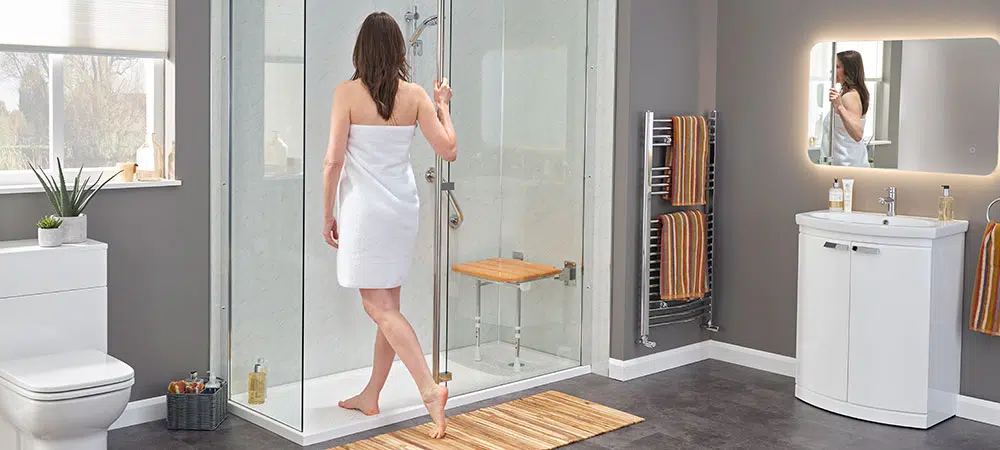 What is an Accessible Bathroom?
One of the most used rooms in the home is the bathroom. Bathrooms come in many different sizes – you may have a small bathroom or a fairly big bathroom – and it is important to be able to move around it safely. With 45% pension aged adults being disabled and 68% of disabled adults reported to suffer with mobility issues, making sure you have a safe livable space is extremely important.
Bathing is a personal experience and if you suffer from mobility issues you may need assistance at what should be your most personal time. If you're in that 68%, and suffer from mobility issues then there are alternatives out there for you to a safer environment where you can gain independence.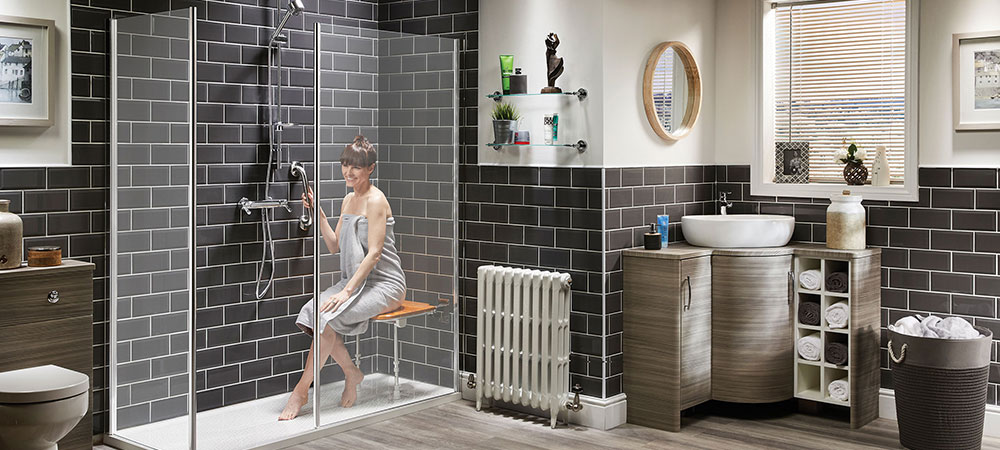 Who is an Accessible Bathroom for?
Accessible bathrooms are specially designed for anyone with limited mobility, so you can find bathing easier and safer. There are various types of adaptive features available for an accessible bathroom to make your private moments easier.
Here at Assistive Bathing, we want to help improve your bathing experience and allow you to become independent again. We offer a vast range of luxurious bathrooms for you; from walk-in showers, walk-in baths and wet rooms. Each has its own unique style but all offer the same luxurious feel to bathing.
Walk-in Bath
A walk- in bath is perfect for those of you that love to submerge themselves in the water when bathing. The special feature on this type of bath is the watertight door that allows you to step into the tub over a low threshold, rather than having to lift your leg over the full height. This is a great solution if you do not have great balance.
Our walk-in baths come with a range of special safety features for you to be able to enjoy the benefits of bathing safely and comfortably. With our grab rails you are able to hold yourself as you lower into the bath and our anti-slip flooring means that you can step into your bath without the worry of any unwanted falls.
Putting yours and your loved one's mind at ease, a walk-in bath could be the right solution for you whilst being able to enjoy the benefits of bathing once more.
Walk-in Shower
A walk-in shower is well suited to those with mobility issues that hinder them from stepping over the bath or even the low threshold of a walk-in bath. All our showers are designed with low level entries for you to get in and out safely.
We understand how important it is to bathe safely so we have walk-in showers that have safety features. Our grab rails offer extra support for you to hold onto which lower the risk of falling or tripping. The slip-resistant base works in both wet and dry conditions so you can have ease of mind when moving around in the shower.
If you struggle to stand for long amounts of time, our integrated shower seat allows you to sit down as you shower, taking any strain off you that you may have had prior. Once done all you have to do is fold it back up.
Top tip! When the shower seat is in use you can pull the adjustable shower head down on the sliding rail so you can still enjoy your shower.
Wet Room
A wet room is an open plan bathroom without an enclosed shower. The main beneficial feature of a wet room is the one level floor plan where the whole surface is the same level throughout the bathroom. This the perfect solution for the less able and wheelchair users.
Here at Assistive Bathing, we want to make your bathing experience practical and safe. Same as a walk-in shower, with the wet room we offer special safety features to put your mind at ease when bathing. The grab rails will enable you to comfortably hold yourself up to easily move around as you shower.
Our slip-resistant poly-flooring will put your mind at ease when moving around your wet room and if you are struggling to stand up for long periods of time you can use the folded integrated shower seat.
The purpose of a wet room is to make showering practical again and will help you regain your independence when bathing.
Pros of Having an Accessible Bathroom?
✓ Safety
Here at Assistive Bathing the number one thing we have in mind is your safety. We have safety features that are adapted for every walk-in bath or shower and wet-room. We offer grab rails to help you stay stable as you shower or lowering yourself into the bath. Anti-slip flooring to stop any unwanted trips and falls. Integrated shower seats for you to sit if you struggle stand for too long an many more feature for you to put your mind at ease.
✓ Regain independence
Bathing is a personal experience and as we grow older there's the chance of developing mobility issues that disable us from doing certain activities on our own, such as bathing. Whether you have chosen a walk-in bath or shower, our bathrooms are designed for you to be able to regain your independence.
✓ Stylish
You may think having an accessible bathroom means you're losing out on how your bathroom can look. That is far from the case! We have a range of luxurious styles for you to choose from with different accessories to compliment your new bathroom. From the wall panelling to the tap, there are many you can choose from.
✓ Peace of mind
With your new accessible bathroom, you can bathe independently and safely once more. The independence comes with a lot of benefits the most important being ease of mind. Not only is this important for you, but your loved ones too. They can relax knowing that you are going to be safe if you are on your own.
If you are looking into buying an Assistive Bathing bathroom, we offer a free design consultation to advise you on the most suitable products for your specific needs. If you have any questions in the meantime then please don't hesitate to get in contact with us!
Other Articles That May Interest You
Assistive Bathing are proud sponsors of ITV 1 Everyday favourites. If you have seen us on ITV, check out our website for more information...