7 Amazing Benefits Of Walk-In Baths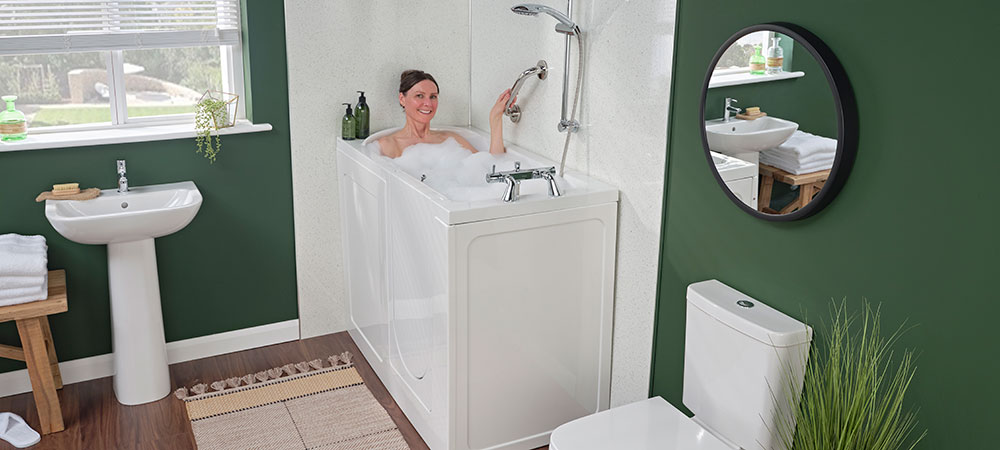 What Are Walk-In Baths?
Walk-in baths are the most luxurious baths available today, and enable those with mobility issues to bathe on their own. Equipped with safety features, they enable you to enjoy relaxing bathing experiences with a lowered risk of an accident happening. Here are 7 of their many amazing benefits:
1) Makes Bathing Possible For Those With Compromised Mobility
When you have health conditions which compromise your mobility, tasks such as bathing can be far from easy. This is why our walk-in baths are fully equipped with many safety features. Grab rails enable you to stand up with ease, pup-up drain waste plugs help you to drain the bath without having to stretch or lean and temperature controlled mixer taps allow you to run a bath at the perfect temperature without the risk of scolding.
All of these features help those with reduced mobility to have the stress-free bathing experiences that they desire.
2) Regain Independence
Walk-in baths allow you to bathe without suffering the indignity of having to be assisted in the bathroom.
Safety features such as grab rails offer extra resting points to boost your confidence even when you're prone to falling.
Ultimately, you will be able to enjoy a bath independently again!
Grab rails can help you to stay safe when entering and exiting the bath
3) Decreases The Danger Of Falling
Our walk-in baths come with features to ensure that there is minimal chance of slips and falls occurring. From the anti-splash screen and secure locking to the low door threshold, we account for any tripping or slipping hazard that may occur. This means that even those with compromised mobility are able to enjoy a relaxing bath without having the fear of falling.
4) Stress Relief and Mood Lifter
A bath can be a huge stress reliever and mood lifter. The calming environment of a bath aside with the warm water can drastically relax you, thus improving your mood. This means a bath is the perfect way to unwind after a long day!
A lady enjoying her walk-in bath
5) Pain Relief
A long and warm bath can be a great way to temporarily relieve pain. The heat gets your blood moving, allowing your achy muscles to relax. This can also help to improve your circulation too!
6) Fall Asleep Faster
Hot water relaxes your body preparing you to fall asleep.
On top of this, soaking in a warm bath will raise your body temperature, causing it to rapidly cool down afterwards. This helps your body to reach a cooler temperature. Your body can then produce sleeping hormones (melatonin), thus better preparing you for your night's sleep.
7) You Can Shower Too
With any of our walk-in baths, the option of showering is still available too. All of our walk-in baths come with the option of adjustable shower heads with 5 different spray settings. The slip resistant bases on all of our walk-in baths enables you to have a bath or a shower without the risk of falling!
You can also shower in a walk-in bath
Request Your FREE Walk-in Baths Brochure
Interested in finding out more about how a walk-in bath can benefit you? Click here to request your FREE brochure today! Or, give our friendly team a call on 0800 085 5585.
Other Articles That May Interest You
Explore 5 quick fixes to help adapt your existing bathroom into an accessible and functional space.